FallFest Registration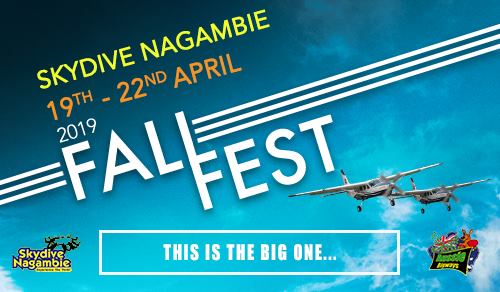 Duration: 4 Days (approx.)
Location: Bailieston, VIC
FallFest 2019
THIS IS THE BIG ONE
19th - 22nd April

Skydive Nagambie will be running two Supervan 900s, with coached camps leading up to an Oz wingsuit record, multi-plane bigways and multi-plane angles. Plus, plenty of slots and organisers for loads of fun jumping for all levels throughout! So no matter whether you have 10 jumps or 10,000 - make sure you get on board the biggest event of the year!
The Dream Team
Wingsuit Organisers - Woody, Scotty P, Jason Dodunksi
FS Organisers - Alan "Mossy" Moss, Tracey Basman, Christian Peric
Angles/FF Organisers - Reed, Tayne, AK
With Tommy Sierra, Paul Barker and Swanee on camera.
Nightly entertainment from DJ Teags!
Full catering will be provided by the legendary Snappa throughout the event!

Early Bird Registration
Registering early helps us to order t-shirts and organise facilities. So to say thanks for helping us out, if you register by 4th March we'll give you an extra jump ticket free as well as the 15 included!
Registration includes:
15 x Skydives (15k Supervan 900 loads, includes formation loads!)
Angles/Freefly Load organisers (all levels)
FS Load organisers (all levels)
Wingsuit/XRW Load organisers (all levels)
Nightly day tapes
Nightly entertainment, DJ sets and games
Raffles and prizes
FREE Boogie T-shirt
FREE Goodie bag
FREE Camping
and more surprises to come...!
For any enquiries, please contact jump@skydivenagambie.com
Tickets are transferable but not refundable and must be paid in full prior to the event.